About: Smiley
I began fitting custom bikes for Serotta when I was their appointed regional sales representative for the Mid Atlantic states (MD‐DE‐VA and DC). This was a part-time gig that conveniently overlapped with my sales territory as a mechanical engineering sales rep for HVAC solutions. After 7 years, I left the sales role and launched my fitting services to fill a gap that was not being provided by common bike shops. The shops make money selling bikes and drive profits selling parts, but few are focused on getting the customer right on their bike. Those that are can rarely afford the time it takes with each customer to get the fit completely right. I've got nothing to sell but a great fit!
My fit business has grown steadily and solely through word to mouth advertising – a delighted client is my best advertisement. Chances are it was one of them that brought you to this site. In nearly 20 years, I've amassed many happy clients and thousands of hours observing, modifying, and fine tuning the fits of every type of rider – casual, club, racing, triathlon, randonneur. My goal is to make each rider the most bio‐mechanically efficient on his/her rig. I often say you will only notice a great fit when you ride 40+ miles. Anybody can take an ill-fitting bike out for 30 miles or less and accept the discomfort that comes with it. But, prolonged discomfort leads to body fatigue and magnifies aches and pains to the point that cycling is a chore rather than a joy.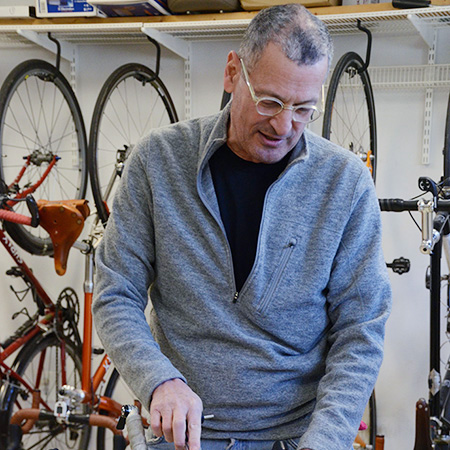 Many of my clients are also in search of a new custom bicycle. I currently work with Kelly Bedford Customs selling custom high end and hand-built bikes in steel, titanium, and aluminum. I also have a long roster of Serotta customers. Although I am a big fan of Kelly's work, I am focused on designing your ultimate fit and helping you work with the bike builder of your choice.
When I'm not working with clients in my fit studio or walking my dogs, I love to be out on my own bike. In fact, we are a cycling family. My wife, Karen, and I prefer to take cycling vacations with our tandem over any other option. She bike commutes, and I love a good "fixie" ride especially if I'm tight on time
Come see me here in my home studio in Kensington MD prepared to ride your bike indoors. I need you with cycling shorts, shoes/cleats/pedals and your bike. We will set you up to ride indoors while I interview you about your current cycling experience, medical issues pertaining to the bike, and most importantly -- your cycling goals.