Case Study: D. Hops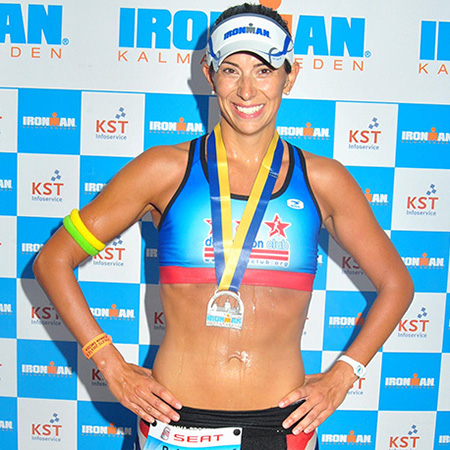 D. Hops - Triathlete
Deb has successfully completed over 25 triathlons, including four full-iron-distance races – the most recent was Ironman Mont-Tremblant in August 2014.
She earned a first place overall finish at the Wisdom Oak Winery Olympic Triathlon in September 2013, and was voted 2013's Most Improved Female Triathlete in the 1300-member DC Triathlon Club.
Deb is a certified Spinning® instructor at several gyms and indoor cycling studios in Washington, DC. Her instructional style provides an ideal workout for triathletes, road cyclists, and anyone wanting to improve cardio fitness and strength on the bike.
Better Fit, then a Great Bike

D.Hops came to me as a triathlete who didn't enjoy the ride. It was no wonder because she was fit wrong from feet to shoulders. Over the course of her initial fit sessions, she and I were able to put comfort back into her ride. Then, the transformation began. She rode more, got stronger and faster, and more stretched out. We dialed her fit in a little more as she progressed. She was also racking up great performances in every race. Eventually, her fit needs exceeded what I could adjust on her current bike, so I introduced her to Kelly Bedford, a master frame builder who launched a new line of tri-bikes in Fall of 2013. The rest of the story is best told by her…

- Smiley
The First Fit - The following are excerpts of her 3/23/13 posting on DC Tri Club Forum
"Smiley isn't as good as everyone says he is – he's way better!"
I did my first Ironman in Louisville on my Trek 5000, but since I registered for Ironman Kalmar this year, and it's a flat, fast course, I decided to upgrade to a tri bike. I got on the Cervelo P3 bandwagon. After a couple weeks of miserably uncomfortable rides on the trainer, I decided to contact Smiley for a proper fitting.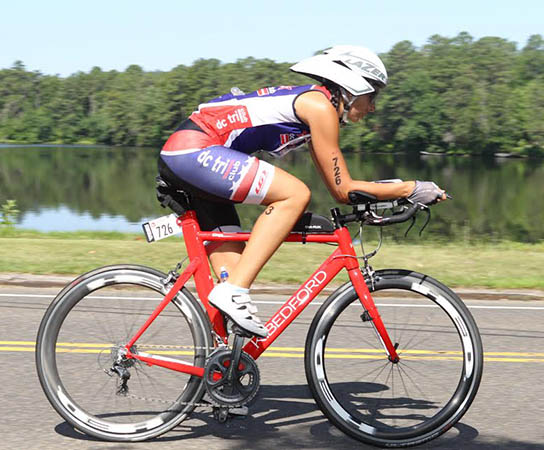 The Studio
Smiley's studio is well equipped, in the garage of a lovely home in a nice neighborhood in Maryland. I live in Dupont Circle and sold my Jeep when I moved to DC, so I don't have a car. Luckily, it's only about a 13 mile ride up Beach Drive to Smiley's studio, so in less than an hour from when I clipped in, I was knocking on his door. The studio is also less than a mile from the Grosvenor Metro station, so if it starts pouring rain in 37 degree weather, you can take the Metro home (can you tell I'm speaking from experience?).
The Fit Sessions
Smiley advertises a custom fit, and that's exactly what he gives. I rolled in on my P3, he took one look and said, "Wow, you must be really uncomfortable on that bike." Bingo. We started with my shoes – the cleats were completely off from where they should have been – and worked up from there. As we went through the fit he explained everything so I could understand what we were doing, why we were making the changes, and how it would impact my ride. In addition to getting a more comfortable, efficient bike fit, I also learned a lot about the discipline I've always considered to be my weakest.
I know my ride is going to improve tremendously as a result of this fitting. In less than 2 hours, my attitude about my tri bike changed 180 degrees. Contrary to what many people say, a tri bike does not have to be an uncomfortable or painful to ride!
The Great Bike - The following are excerpts of her 4/11/14 posting on DC Tri Club Forum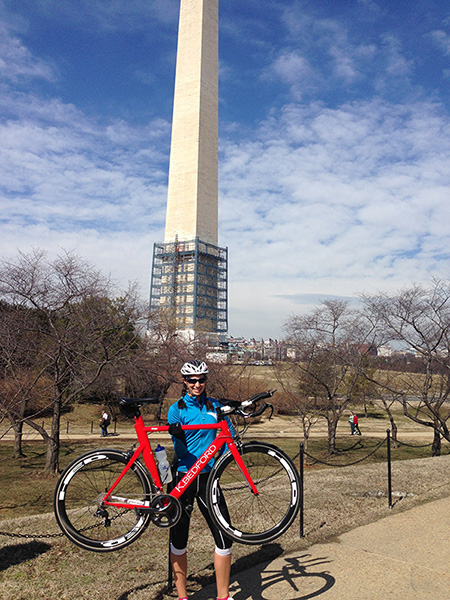 I decided it was time for a new tri bike. I parted ways with my beloved Cervelo P3 and elected to go the custom route. Kelly Bedford had decided to start a new line of K.BEDFORD custom bikes, an aluminum time trial model. I was lucky enough – with the help of Smiley– to be the fortunate athlete to get Serial No. 1. That's right, a custom tri bike, one of a kind, built just for me. It could be whatever I wanted it to be. I was excited!
We did a couple of fits, with specific measurements; to be sure this bike would fit me perfectly when it came together. Smiley already had me completely comfortable on the Cervelo even though she was a 54cm frame and a bit too small for my height. But, because of Chris Hendricks, the magician who does my bodywork, keeps me injury-free, and racing faster, I went from being 5'10" to being 5'11" thanks to his handiwork. That's right, he straightened me out and I grew an inch. He's a genius.
Anyway, my new bike was going to be a 56cm. I left a lot of the details to Smiley and Kelly, because I trust their expertise, and it's an understatement to say that they know more about bikes than I ever will. So, besides the major components, which Smiley helped me select, I put the remainder of the project in their able hands. It took me a while to decide on a paint color and scheme. After all, this was a custom racing bike. It should be sick! It should have shark teeth, or lightning bolts, on it! Luckily Smiley talked me out of all that nonsense and I settled on a classic color scheme. My favorite parts of the paint job are the contrast paint on interior of the chain stays and fork, and of course the d.hops painted on the top tube. It's my bike, and I wanted my nickname on it. K.BEDFORD delivered!
The bike arrived in mid-February and Smiley had his shop (Spokes Etc. in Alexandria) build it up for me. I'd seen pictures but nothing could prepare me for the first look. I walked into Smiley's studio and my jaw dropped. My goodness, she was beautiful! Shiny, pretty, and more real than I could imagine. We did a final fit with some minor tweaks (after all, she was built based on all my measurements so there wasn't much to do), and then I took her home. Check out my impressions of the ride at dhops7.wordpress.com
If anyone is considering a custom tri bike, please seriously consider K.BEDFORD. Then do it. Do it. Do it. Do it! It was an absolute pleasure to work with him, and with Smiley, to make my cycling dreams come true. I'd like to pour heaping mounds of thanks on Kelly Bedford for building me a beautiful bike, and on Smiley for making it happen while guiding me along the way. I hope to make you both proud this season!